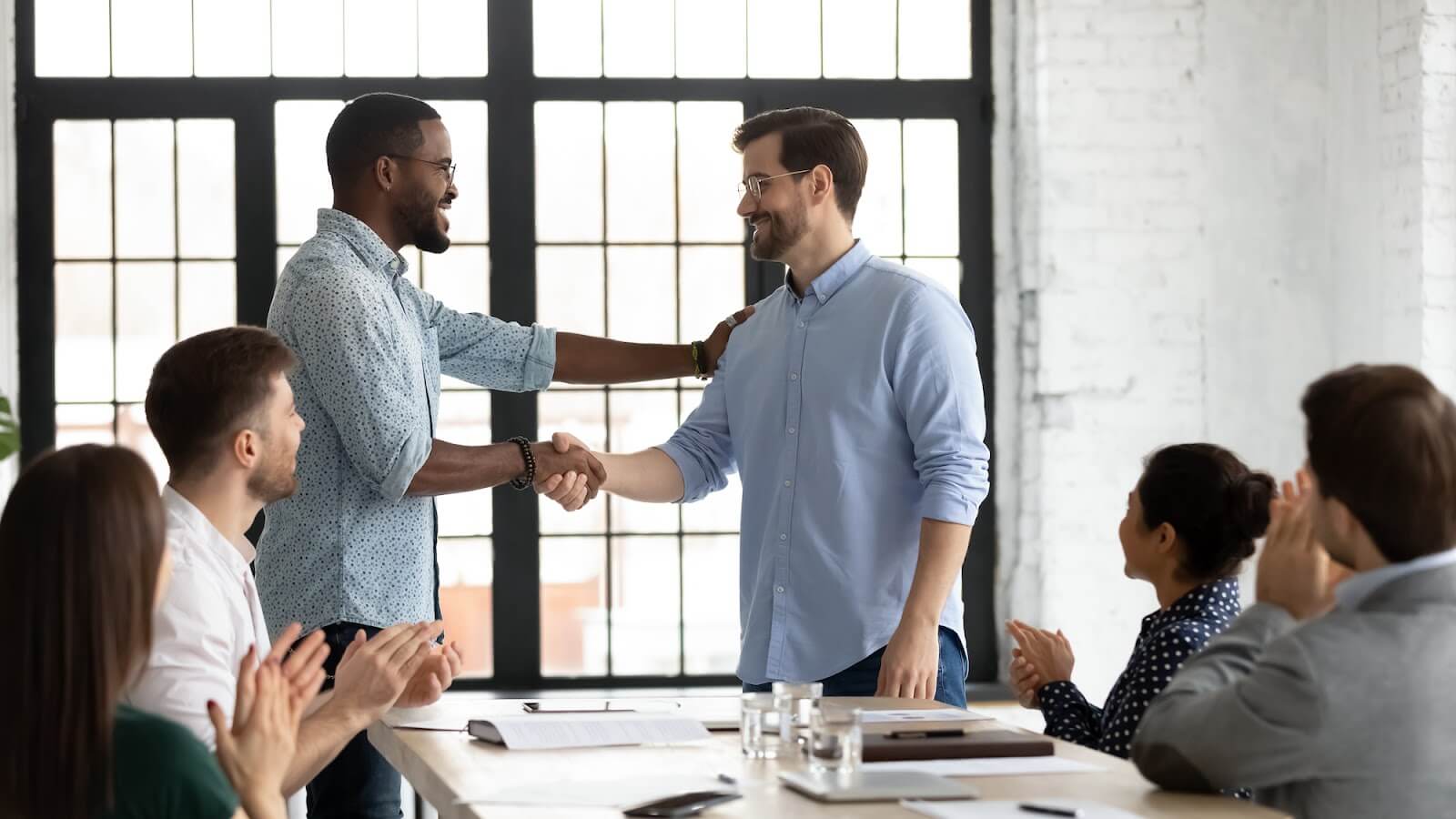 Employee recognition matters, both in terms of retention and productivity. According to a recent Glassdoor survey, approximately 53% of respondents claimed they'd be more likely to stick with a company for the long haul if they genuinely felt appreciated by their managers — 81% stated they were more motivated when their hard work was regularly recognized. If you want to establish a durable, driven company culture, then you need to let your people know that they're doing a good job. Of course, delivering positive sentiment for its own sake won't yield the result you're looking for either. The recognition you deliver must be earned or else the weight of said recognition will diminish. Moreover, you risk losing the respect and trust of your team and colleagues if your praise rings hollow.
Here's how to maintain respect and authority while still showing plenty of appreciation to your team.
How to Appreciate Your Team Respectfully
Uphold Strong Communication Always
Some people still associate authority with a sort of reservedness, wherein the person in power is behind the scenes, rarely speaking to others outside of a close circle. However, making an effort to speak directly with team members is vital in building mutual respect and showing appreciation. Indeed, your team is bound to respect your authority much more if you're regularly in the room with them, listening to their thoughts and concerns and playing a role in day-to-day decisions. By honing your leadership communication skills, you can remain well aware of what each team member is doing so you can highlight outstanding performance when you see it — and since your face will be well-known, your employees will believe your kind words when you convey them.
Set Clear Expectations
Good team management relies on coherent ground rules. Some of your employees will simply want to get their work done while others will actively try to go above and beyond. In either case, you need to set clear expectations so every team member knows what they should be doing, how they should behave, and whether or not their actions are worthy of distinct appreciation. When everyone is on the same page in this way, they can better direct their efforts and earn your recognition on a regular basis.
Manage Individual and Team Performance
In order for your praise to be consistently well-founded, you must keep close tabs on your team's performance. As part of your expectation-setting, you should lay out key performance indicators (KPIs) that help you and your employees maintain a clear grasp on which metrics matter and why. Some common KPIs include sales targets and changes over time, customer retention rate, amount of time it takes to accomplish certain repeated tasks, etc. It's crucial that these employee KPIs are measurable, realistic, specific, and understood. Performance management using KPIs and other methods will allow you to point to tangible data that reveals exceptional effort, distinct accomplishments, and other benchmarks worthy of applause.
Find Fresh Ways to Deliver Praise
If you're still not sure of how to best manage your team and express your appreciation in a genuine way, do your best not to fall into stagnation — recognition is always more potent when it's delivered in unexpected, novel ways. Employees who regularly go above and beyond deserve more than just another shout-out — it might be time to give them a meaningful reward (which in turn may encourage others to follow said employee's example). Also, avoid concise, rote appreciation, instead taking the time to cater your praise in such a way that emphasizes an individual's efforts. Timing and context can make a difference, too — will you recognize someone in the presence of their team or recognize their work one-on-one? There's no single way to show your team appreciation, so mix up your delivery and wording to make the biggest impact each time.
Recognition with Respect
As a leader, you must strike a balance between expressing appreciation to your team and maintaining your authority so your people continue to feel motivated to do their best work. Pursuing ongoing leadership communication training is one of the best ways to achieve this balance. The better you are at communicating with your team, the stronger your culture will become — making sure your people feel sincerely appreciated is a major part of this equation.

At Leadership Resources, our purpose is to make the impossible possible through people. We aim to do so by helping individuals develop patterns of success that will decrease obstacles and maximize productivity. Contact us here to learn more about what we do and how it can help your business succeed and grow at times like these when you need it most.
Read More