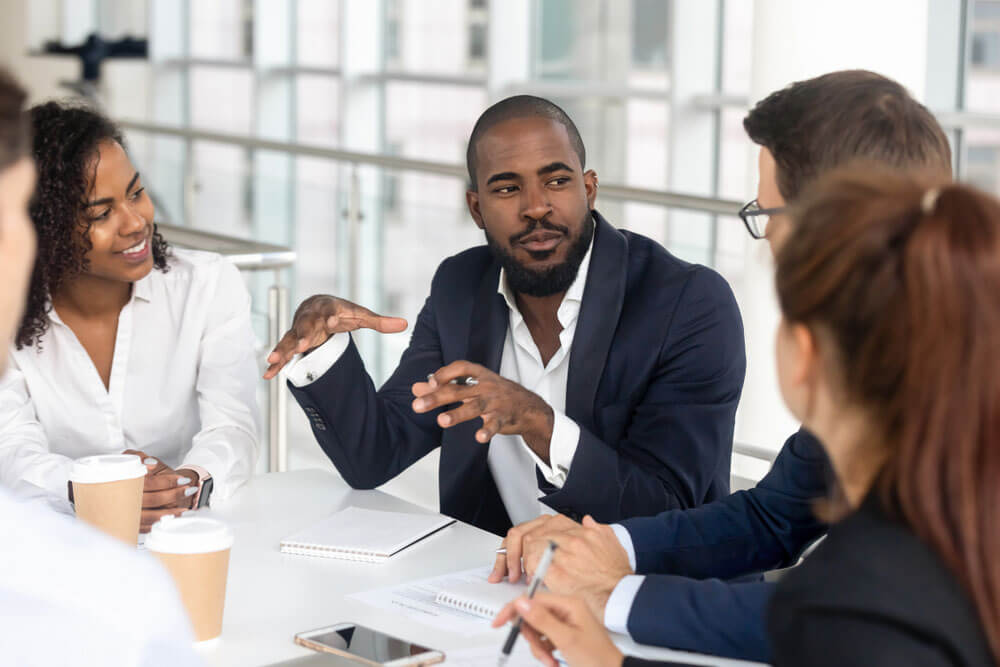 Quality of leadership largely determines whether an organization rises, falls, or remains stagnant. But leaders do not magically descend from some higher realm. They are cultivated over time through experience, education, and perseverance.
Nearly every company contains its share of potential leaders, and it is the responsibility of current leaders to identify and foster future leadership roles or else risk leaving a major hole in the organization. Failing to spot a future leader puts the company at risk of losing them forever.
Of course, not every worker is destined to be – or interested in being – a leader. Investing in these individuals is not a waste of time, but the lion's share of leadership development resources are better spent on those who display the potential to hold a leadership role.
With that in mind, let's go over how to identify future leaders at your organization.
Who Goes the Extra Mile in Your Company?
Past behavior is a good indicator of future behavior, especially when it comes to self-motivation and a willingness to learn. When seeking the future leaders of your company, a good place to start is by looking at previous results.
Consider who in your organization consistently goes above and beyond expectations. Look for people who think beyond the basics and seize opportunities to try new things and assist others.
Who seems to have a burning desire to do more, learn more, and connect more?
Which salesperson might not have the best sales numbers yet, but seems genuinely interested in being the top seller?
Which customer service rep always leaves customers chuckling and smiling?
Who's always talking about wanting the company to grow?
Who's bursting with creative ideas?
In addition to work-related tasks, give a closer look to the employees who seem personally dedicated to outside causes and personal hobbies that show dedication. On an even more basic level, keep an eye on who helps out around the office simply because they care. They may have hidden leadership potential.
Who stays behind to help clean up after an employee lunch?
Who seems to remember everyone's birthday and helps them feel special?
Who has ideas for company celebrations and outings?
Employees who are highly motivated, results-driven, and interpersonally connected tend to show their enthusiasm without specifically being asked to do so. These are highly valuable employees and team members who come up with new, innovative ideas that drive the company's efforts into new territories.
Pay close attention to the people in your company who keep the enterprise moving forward with passion, as they already exhibit strong leadership qualities. With extra support and encouragement, they could become your company's future superstar managers and executives.
Weigh Both Potential and Performance
Also, look beyond your sales and customer service staff. Even if they're not your top performers in terms of your bottom line, they might be perfect fits for various leadership roles in the future. Provide leadership training now, and your company could help all kinds of people become top performers who reach new heights. Performance is undoubtedly a key indicator when spotting future leaders, but it's not the only indicator. You may have employees who hold high potential but who are currently diamonds in the rough. They may work extremely hard but don't seem to exude much leadership role potential quite yet.
"Leadership potential" is a somewhat ambiguous metric, of course, and therefore more difficult to pick apart than hard data. Still, pay attention to potential leadership skills, such as:
Strong communication
Organizational skills
Team-building aptitude
Flexibility and adaptability
Humor and creativity
Openness to feedback
Willingness to be held accountable
Don't make the mistake of thinking that a quiet or reserved person is incapable of being a leader. Not every leader is a bold, take-charge type. Some leadership roles call for more measured forms of leadership that are a great match for more reserved people.
Shake Up the Structure
Another helpful way to identify future leaders is by stirring the pot a bit. Start rotating job duties or assigning new roles to people every now and again. In doing so, some individuals will take full advantage of the opportunity, learning new skills and pushing themselves beyond their perceived limits.
Others may wish to stay in their comfort zones or might buckle under the pressure. You'll be able to see who thrives when given more responsibility and who shies away from it or outright rejects it. This technique is known as job rotation, and it's common in certain industries. Companies use it to see who can handle leadership, to prepare for audits or prevent fraud, and to keep employees engaged so they don't burn out.
Job rotation is a powerful exercise for succession planning, as it can help you determine which candidates can adapt quickly and take on new roles when necessary. Not everyone is the right fit for leadership, and that's okay. The goal is to find the right candidates for immediate additional leadership development.
Ask Yourself: Who Is Asking Questions?
While not everyone who asks questions is bound to be a leader, all future leaders ask questions. Leaders are curious, peppering people with questions about pivotal issues that impact the company, their teams, and their personal futures.
This spirit of inquiry is directly related to strong communication and therefore strong leadership. Questions are a huge part of tackling thorny issues and finding workable solutions. People with leadership potential also have the bravery and boldness to be inquisitive.
So keep an eye on those who take the time to clarify concepts, inquire about plan specifics, seek solutions to ongoing problems, and ask seemingly simple questions that others might be too timid to ask. These are the hallmarks of a potential leader and someone who inspires others to achieve great things.
Train Your Eye for Emotional Intelligence
Emotional intelligence, or EQ, is one of the most important qualities of a good leader. Those who can listen to the concerns and suggestions of others and act accordingly strengthen the company's culture, encourage employee buy-in, promote teamwork, and improve the organization's reputation and operations as a whole.
EQ is about understanding what people mean, even when it's not what they say. This is a challenging concept for many people who aren't naturally intuitive. In a professional setting, EQ is about being willing to have complex interpersonal interactions that reveal deeper truths and help move issues forward.
Contrary to popular myth, emotional intelligence is learned and not inborn. It's a skill that can be developed through education, coaching, practice, and determination. Emotionally-intelligent company cultures tend to be more successful because they can nimbly seize opportunities that arise day after day.
When looking for EQ in future leaders, look for individuals who display empathy, self-awareness, self-regulation, motivation, and strong social skills. These individuals are often poised for leadership positions, with some additional guidance and support.
Who's Personally Invested in the Organization?
Even if you've found a handful of candidates who meet the above criteria, you have to consider whether or not they're in it for the long haul. Are they invested in your company? This isn't a strictly financial question. It's about an emotional and psychological investment that goes beyond the paycheck.
Those who show strong future leadership role potential are in high demand, after all, and many businesses spend significant resources training future managers only to have them exit the organization shortly after. This is a cycle of employee loss that's much easier to prevent when you identify future leaders and nourish them to their full potential.
Developing future leaders in your company starts with identifying the best candidates and continues with retaining them. You may be pleasantly surprised at how many people in your organization want to move up in the company and remain working there if you give them the right motivation to do so through leadership development.
While you can't force any of your leaders to stay at the company, investing in their growth is a crucial way to retain your top talent. And those who routinely express their interest in the company's future and their role in it are top contenders for future leaders. In short, if a potential leader is invested in your organization, you must invest in their development.
The Accelerate Leadership Program
Does your company need additional assistance with how to identify future leaders and give them the support they need to flourish? At Leadership Resources, our goal is to help companies thrive through deploying effective leadership techniques, especially when it comes to nourishing emerging leaders.
Any company hoping to spot future leaders among its employees would benefit from leadership development coaching and education. Leadership coaching and development programs go far beyond basic leadership training programs because they use a holistic approach that incorporates a proven process, customized coursework, peer interactions, leadership coaches, software, and an archive of helpful resources to help them stay engaged.
Consider the Accelerate Leadership Program (ALP), which helps participants expand their leadership confidence and knowledge. ALP allows each participant to hone their leadership style while learning the essential skills it takes to connect with people and lead teams to success.
At Leadership Resources, we help companies identify emerging leaders and encourage them to reach their full potential. When your company needs to implement an effective future leadership strategy, we're here to provide expert guidance and support.
Read More