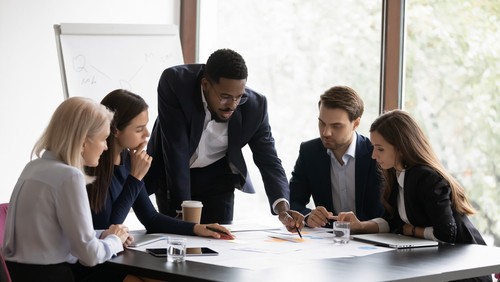 Do you have what it takes to be an outstanding leader? To answer this question, you'll need an effective leadership assessment tool.
What are Leadership Assessment Tools?
Some of the best tools you can use to assess a person's leadership abilities are personality tests. Others may be more of a comprehensive program. There are hundreds of these tools available across the world, so it's challenging to choose the best way to assess core competencies including leadership style, skills, and potential. Below are 4 well-known leadership assessment tools you can try.
Top Leadership Assessment Tools
Myers-Briggs Type Indicators
Enneagram Personality Test
Gallup CliftonStrengths Assessment
Harvard Business School Approach
Myers-Briggs Type Indicators
The Myers-Briggs test is one of the oldest and best-known personality tests in the world and is also often used as a leadership assessment tool. The Myers and Briggs company claims that 88% of Fortune 500 companies in more than 100 countries use the Myers-Briggs Type Indicators (MBTI) in some fashion.
Myers-Briggs test results are often used to help people understand their personalities and communication styles. In business settings, MBTI results can help companies illuminate challenging aspects of their company cultures and determine where they might have barriers to employee engagement.
Before using this test, consider that it comes with caveats. The Myers and Briggs Foundation itself outright advises against the use of the MBTI as a screening tool for potential employee hiring assessments. They also recommend very limited use of the tool for certain business activities, like conducting employee performance reviews.
Enneagram Personality Test
The Enneagram test is a tool that explores interpersonal understanding within the framework of nine interconnected personality types. The tool is based on the combined teachings of spiritual advisor Oscar Ichazo and psychiatrist Claudio Naranjo, who gained popularity in the 1950s and 1970s respectively.
Ideally, discovering one's Enneagram provides an opportunity for deep personal reflection. Business teams can use Enneagrams to identify areas of potential conflict and overcome them before they become obstacles to company success. Managers can use Enneagram results to understand the human side of doing business and support their team members more effectively.
However, the Enneagram has vocal critics among experts in the field of human psychology, with some skeptics labeling it "pseudoscience." An article in the Journal of Clinical Psychology about the Enneagram's scientific validity found mixed results in terms of its real-world effectiveness, so it's uncertain whether it can provide your company with valid leadership assessments.
Gallup Clifton Strengths Assessment
Gallup, the widely respected research company, offers an online leadership strengths assessment tool. Also known as CliftonStrengths, this tool assesses how successfully someone is working to reach the level of their full potential and provides guidelines for better strength development.
The Gallup tool's main benefits are that it's affordable, it provides an easy online leadership assessment form, and it comes with the well-known name of Gallup. On the flip side, this is not a comprehensive solution for personal/professional leadership development. It simply provides a broad look at the types of strengths most people need for good leadership.
Harvard Business School Approach
Harvard uses an array of high-potential leadership assessment tools developed at the Harvard Business School (HBS). This is considered one of the world's premier options for assessing whether someone has what it takes to succeed at the most elite levels of business.
The success of the HBS approach is acknowledged across the globe. Famous HBS alumni include former President George W. Bush, billionaire Robert Kraft, Facebook's Sheryl Sandberg, U.S. Secretary of Transportation Elaine Chao, Senator Mitt Romney, and New York Mayor Michael Bloomberg.
The Harvard assessment tool comes with two noteworthy drawbacks. To gain access to it, you must first apply to Harvard, provide proper credentials, and be accepted into the highly competitive HBS leadership program. The program also comes with a hefty price tag of $54,000 per enrolled student per module.
Leadership Resources Accelerate Leadership Program
It is important to remember that leadership skills are not inborn; they are developed. Leadership assessment tools provide an understanding of an individual's personality and current leadership competencies, and this information can be used to create a customized leadership development program for that individual.
The Accelerate Leadership Program (ALP) from Leadership Resources is this type of robust and personalized leadership development approach. It's much more than just a tool for leadership assessment because it provides a fully customizable leadership program with instruction, coaching, a resource library, and hands-on skill-building activities.
ALP sets the stage for authentic leadership development by helping people build the growth mindset it takes to inspire others and accomplish big things through teamwork. Each individual experiences a personalized program, discovering where they have room for improvement and learning how to put their new and effective leadership strategies into action. 
Great leadership is about more than conducting leadership assessments. It's about nurturing emerging leaders so they have the confidence to make bold strides in their leadership journeys and reach the highest levels of success.
Read More